Will my Smart Stories Sync?
Stories are handled differently on Ancestry than in Family Tree Maker, but as long as they are correctly linked to a person they will update as part of the sync process. Smart Stories created in Family Tree Maker will become .rtf text files in Ancestry. The story can't be viewed within your Ancestry tree but the document can be downloaded. Smart Stories are uploaded only if they are attached to individuals, following the process below.
This article discusses the following:
Creating and Saving a Smart Story
After selecting the person for whom you want to create a smart story, click on the Media workspace.

Right-click anywhere in the blank area and select the option Create a New Smart Story.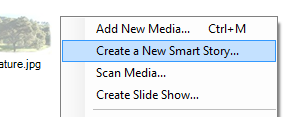 Choose whether you want Family Tree Maker to Auto-populate the Smart Story based on the information in your tree, or whether you prefer to start with a blank page where you can generate your own story.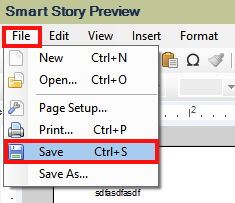 Create your smart story. For more instruction in the process, please click here.
When you are ready to save your Smart Story so it will sync to Ancestry, go to the File menu under the Preview bar and select Save.
In the window that opens, you can name your story as well as categorize it (especially useful if you have a lot of media items and want to be able to later sort by category in your media collection. Click OK to save.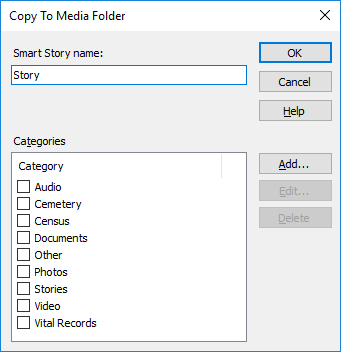 Linking a Smart Story to a Person
If you have previously created a Smart Story through the Publish workspace, it will not sync until you link it to an individual in your tree. To do this, you will first need to save the Smart Story as a Media item.
Click on the Publish workspace.
Under Publication Types, select Saved Reports. Open your Smart Story by double-clicking its icon.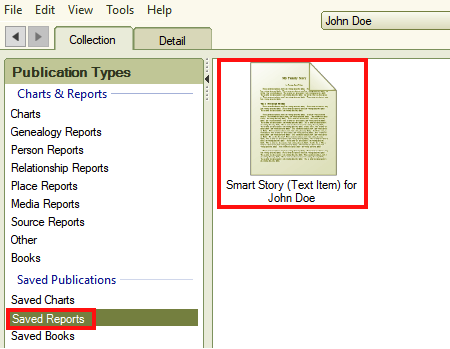 Unless you want to make changes to the story, go straight to the File menu and select Save.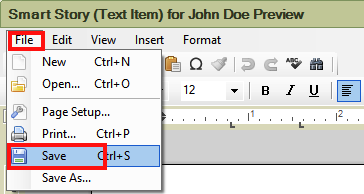 Select the option Save as Media File in your Media collection, rename your story (if you wish), and click Save.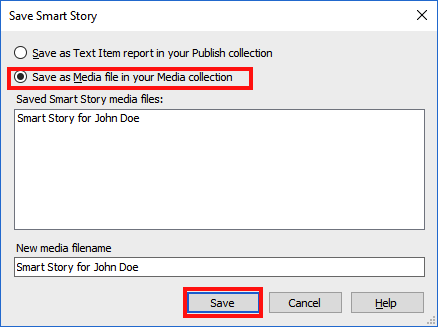 Next, click on the Media workspace to access your newly saved Smart Story.

Find your Smart Story in the media collection. Right-click on the icon and select Link to Person…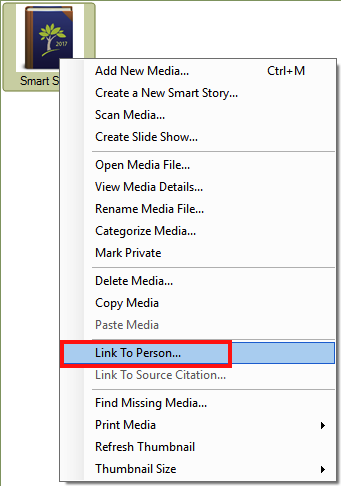 Select the person to whom you want to link the Smart Story. You can either link the story to the person only so it will appear in their Media Gallery on Ancestry, or link to a selected fact so that it will appear in the Facts and Sources section of their Ancestry profile page in addition to their Media Gallery. Click OK to create the link.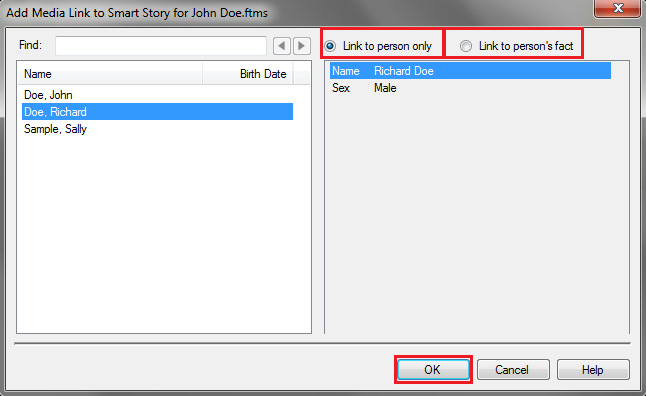 The next time you synchronize your family tree, your Smart Story will be uploaded to Ancestry. You can find it by going to the profile page of the person to whom you linked the story and viewing their Media Gallery.
Stories that you create on Ancestry will also sync to your Family Tree Maker tree. They do not have to be linked to any specific person in order to be downloaded into Family Tree Maker with your next sync. Any stories that originated on Ancestry will be saved as .htm files in your Family Tree Maker media collection. Although you won't be able to view or edit them directly from within Family Tree Maker, you can view them in a web browser by double-clicking the icon. You can edit the text in a word-processing program by copying the text from your browser and pasting it into the word processing program.
Note: Stories created on Ancestry and downloaded to Family Tree Maker via the sync process will not sync back up to the website if the tree is unlinked and re-linked from a Family Tree Maker upload to Ancestry. However, if you re-link your tree by downloading your Ancestry tree into Family Tree Maker, you will have a brand new Family Tree Maker file with all the stories from your Ancestry tree's Media Gallery.