Backing Up a File in FTM 2014.1 and Earlier
How do I back up a tree file in Family Tree Maker?
1. Open the tree you want to back up in Family Tree Maker.
2. Click the File menu and click Backup. The Backup window opens.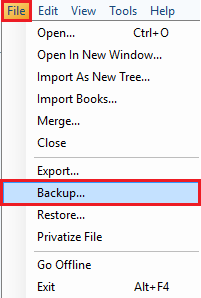 3. Change the name of the backup file in the Backup file name field if you wish.

4. Select the location where you want to save your backup file (you can always manually move it to a different location later on if needed).

Removable media: Allows you to back up the tree directly onto a removable drive, such as a USB drive, external hard drive, or writable CD or DVD disc. Use the drop-down list to select the drive where your removable media is located. Make sure you have inserted the media into the correct port or drive of the computer before you start.
Working directory: By default, Family Tree Maker saves backups to the working directory. This is the folder where all your family trees are stored by default (typically the Family Tree Maker folder in your Documents folder).
Custom directory: Lets you choose the folder where you want to save the backup file. Select the option, click the Change button, select the folder you want, and then click Choose.
5. Select what data you want to be included in your backup file.

Note: Some of the options listed may not be available in versions of Family Tree Maker earlier than FTM 2012.
Media files: Includes all media files that are linked to the tree, even if they are not copied to the tree's default media folder. If you use this setting, make sure that all linked media files are currently accessible (i.e., remote files are on an attached drive).
Historical events: Backs up all of the historical events that you have created or edited for inclusion in timelines.
Note: Historical events are not part of a tree file. They are saved as properties of Family Tree Maker so they can be used with all of your tree files. Adding them to the backup saves them in case of computer failure or if you are moving your tree to a different computer. You can also use a backup file to share the historical events you have created with a different user. On restoring a backup, the backed up historical events are added to the historical events already in the program.
Web favorites: Backs up all of the web addresses that you included in Manage Favorites on the Web Search workspace.
Note: The Allow restored file to resume syncing option is available only in FTM 2017.
6. Click OK to start the backup process. Once it is complete, you will see a message stating that the backup file was saved to the location you selected in step 4. Click OK to close the message.