"Error reading from file" when installing Family Tree Maker
Answer ID 5391
If you receive an message similar to "Error reading from file" when installing Familly Tree Maker 2012 or 2014, use the steps outlined below to resolve the problem.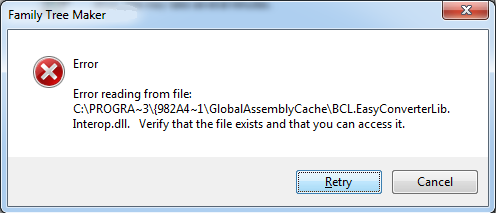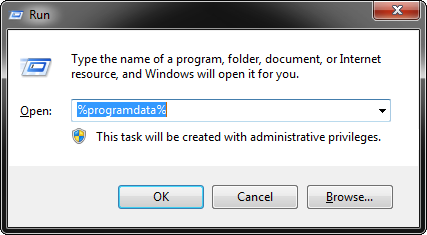 From the start screen or desktop, press Windows logo key + R on the keyboard to open the Run dialog box.
Type %programdata% in the field then press OK. This will open the ProgramData folder.
You should see one or more folders with a long string of numbers and letters. Open each these folders until you find one containing a Family Tree Maker subfolder.

Note: Your folder may have a different name than the ones shown above. The important thing is to locate the folder containing a Family Tree Maker subfolder.

Once you have located the folder that contains Family Tree Maker installation files, navigate back to the ProgramData folder.
Delete the entire folder containing the Family Tree Maker subfolder.
Close the ProgramData window and install Family Tree Maker again
The "Error reading from file" message will no longer appear. If however, you continue to experience problems during installation, click here for additional troubleshooting.