FTM 2017 – NEW TREE SAFETY FEATURES
Here are three newly implemented features designed to prevent accidental deletion of people from your trees.*
1. A deletion warning message. To make sure you know that people will be deleted from your tree, a warning message will now open:
Windows:

2. Sync deletions marked in red. The Sync Change Log window appears right before the final step of syncing takes place and is your last chance to cancel a sync. To help draw attention to proposed deletions, all deleted items will be marked in bold red numbers.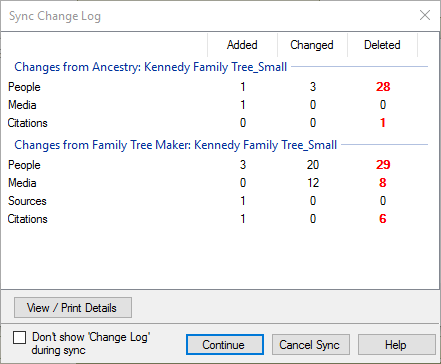 3. Starting sync requires a click. FTM has long had a sixty-second automatic timer on the Sync Change Log window that provided just a minute for you to cancel syncing or it would proceed. That will still be an option, but by default you will need to click Continue to accept the changes shown and start syncing.
*These features will appear in a revised build of the Original Test Drive and in Test Drive 2.0.