How do I scan an image into Family Tree Maker 2017 for Windows?
This article discusses the following:
Scanning into Family Tree Maker directly
Issues scanning into Family Tree Maker
Scanning into Family Tree Maker directly
To scan an image for your tree in Family Tree Maker, follow these steps: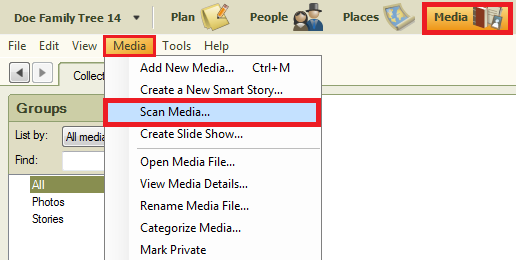 Note: Alternatively, in the top right hand corner of Family Tree Maker is the Add button

from which you can select the Scan Media option as well.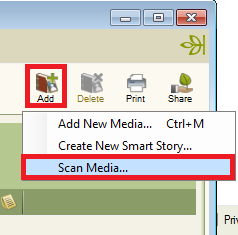 Make sure your scanner is connected to your computer and turned on.
Go to the Media workspace and choose Media from the options listed below the workspaces. Click on Scan Media from the drop down menu. Family Tree Maker automatically searches for connected scanners.
Change any scanner settings and click Scan. The image is added to the Media workspace.
Issues scanning through Family Tree Maker
If you are experiencing issues scanning directly into Family Tree Maker, we recommend scanning the image outside of Family Tree Maker and then adding these images as new media items. Instructions regarding adding new media items can be found by clicking here.
With many new scanners and scanner software, you have the ability to change a number of settings that may not be supported natively in many programs. One example of this is 16 bit images. Family Tree Maker will not be able to support this directly from the Scan option within the product. If you would like to use images in these advanced formats, please use your scanner software to save the image outside of Family Tree Maker first and then link the image in afterwards.