What new features are available in Family Tree Maker 2014?
Answer ID 5582
New Features of Family Tree Maker 2014
You spoke and we listened! Family Tree Maker 2014 includes many new enhancements requested by you!
Enhanced TreeSync
We made TreeSync more reliable and robust to create a better sync experience. The following family tree data is now stored online:
Source Templates
Research Notes
Fact Notes
Media Notes
Relationship Notes
Relationship Media
Media File Names
Media Categories
Please note that not all of the data will be viewable in the online tree. Since the data is stored online, it can be included when/if you ever need to restore your tree from the online version.
New Family View
The new Family View presents a fuller and lush view of your tree similar to the family view found on Ancestry.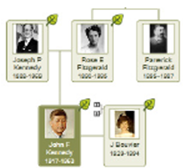 Enhanced Data Merge
We made it easier to merge all members of a household into your tree and now Family Tree Maker 2014 will merge more information more reliably.
New List Reports
The new List of Individuals Report offers five different report formats:
Index of Individuals – Lists all of the people in your tree
Index of Individuals with IDs – Includes Person Ids and Relationship Ids
Anniversary List – Shows the marriage date and anniversary for each married couple
Birthday List – Shows the birth date and age for each person
Contact List – Shows the address, email, and phone number for each person
Simplified Exports
We increased your ability to export an individual's branch by simply right-clicking the individual in the tree.
Simplified User Experience
We simplified the interface, simplified the most common tasks and added options to automatically sort families by birth order.
New Media Viewer
Family Tree Maker 2014 includes a new media viewer capable of displaying all your PDF documents.
Faster than Ever
Family Tree Maker 2014 is faster than ever with 64-bit compatibility.