How do I create, import, or download a tree with Family Tree Maker 2017?
Open Family Tree Maker. The Plan tab should be highlighted. Click the New Tree tab to create a new tree.
Choose one of these options:
If you don't already have a genealogy file you want to use, you can create one by entering a few basic facts about your family by clicking Enter what you know. Enter your name and birth date and place in the appropriate fields.
If you have a genealogy file you'd like to use to start your tree, you can import it into Family Tree Maker; click Import a tree from an existing file. Click Browse to locate the file and then click Open.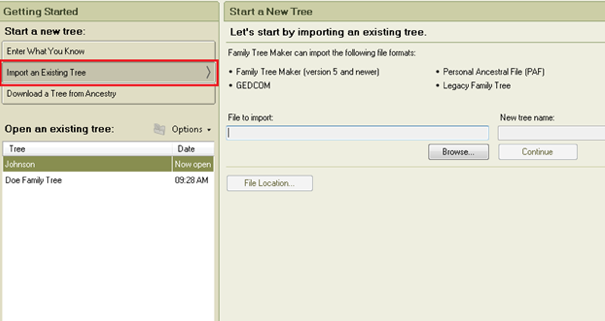 If you have a tree on Ancestry and would like to sync it with your Family Tree Maker, Click Download a tree from Ancestry. For more information on the FamilySync® feature, please click here.
2. Enter a name for the file in the New tree name field.
3. Click Continue. The tree opens to the People workspace. You can start adding information about your family or update your old file now.