THE CO-PILOT PROGRAM
For new users of FTM 2019, we'd like to introduce you to the FTM CO-PILOT PROGRAM. This is a tool we designed when we released the previous edition of Family Tree Maker®, a way to check in with our users 48 hours after they start using the software to give them the chance to fill out a survey and submit a diagnostic test to share their experiences. This proved to be an excellent way to communicate with our users, learn from their feedback, and keep working at the things our users have needed the most.
To continue in that same spirit, we're including the FTM Co-Pilot Program in this brand new edition - FTM 2019. It's pretty straightforward - we start every new FTM 2019 user off with 48 hours of flight on their own, and then have them land for a brief check-in on the second day. The diagnostic test is free, fast, easy and optional. From the results we can tell if the user had crash landed while syncing or run into other problems that we can start to address. Or if they had a great adventure, send them on their way.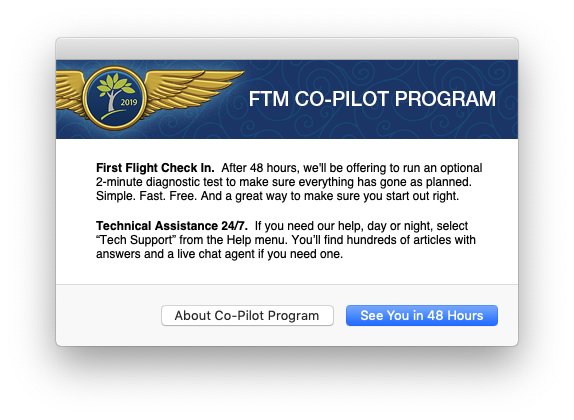 On the first startup of FTM 2019, each user will see the FTM CO-PILOT PROGRAM welcome screen, describing what to expect, and also letting them know that support systems, including Live Chat, are there for them 24 hours a day, seven days a week. When the 48 hours are up, they would restart Family Tree Maker and a screen appears inviting them to a Co-Pilot Program Check-in. The user then either fills out a very brief survey while the diagnostic tests are run, or says "no thanks" to opt out. And either way, if there was trouble on the flight, an invitation to Live Chat is offered.