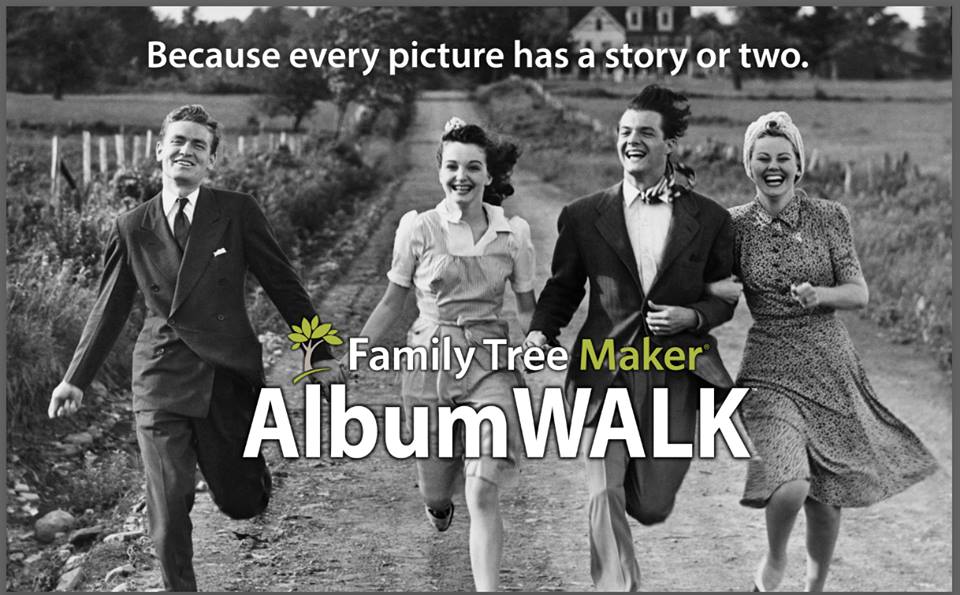 Every so often an invention comes along that fundamentally changes the way we do things. For a hundred years family historians have pored over old photographs searching for clues to their family's past, saying "If only these photos could speak, what stories they would tell!"

At RootsTech 2018 we presented a preview of AlbumWALK®, which we believe will change the way family historians capture and preserve the stories in old family photos while there is still someone around to tell them.

Using AlbumWALK's tap-talk interface, recording memories is as easy as tapping the face of someone in a photo and telling something about them. Tap the next face and talk, and so on.

Each narration is stored in what we call a SoundSpot™ which can be replayed with a single tap. Or tap the Play button and AlbumWALK creates a mini-documentary complete with music you can choose from the era of the photo.

Really, it's as simple as that. We'll get a video demo made so you can see how it works and how it will be integrated into Family Tree Maker. Stay tuned.

JACK

***

FREQUENTLY ASKED QUESTIONS

Q: Can I use the AlbumWALK files in Family Tree Maker?
A: Yes! Interactive AlbumWALK files (.tap) can be exported for use in Family Tree Maker with a full citation embedded, and added to your Media Collection where the tap to play and documentary features will all work.


Q: When will AlbumWALK be available?
A: AlbumWALK will appear first as an iPad app in the Apple iTunes Store and is coming soon. Go to www.albumwalk.com and sign up to be notified when it's released. iPhone and Android versions will be close behind. We have not set pricing yet.
Q: Will there be any restrictions on the length of the narration for each photo?
A: There are no audio length limits.
Q: Can there be multiple narrations (or "stories") for a single photo?
A: You have one background narration for the whole picture and then you can record an unlimited number of comments for any spots you tap, whether that's a person, birthday cake or mountain range in the distance.
Q: Will I be able to import sound files I've already recorded from some (now deceased) family members?
A: We are not planning at this point to have import of sounds, but a number of people have asked about it so that is a possibility for a future release.
Q: Will the app allow sharing of the saved albums and sound files? For example, sharing between professional researchers and their clients as part of a multimedia family history project.
A: If researchers and clients both have a copy of the AlbumWALK app, they will be able to exchange them as editable files. For example, a researcher could scan in a photo and send it to someone who is pictured in it and they can record their memories and send it back. Then all the .tap photo files could be gathered into an album, and exported either as a movie (playing the album like a documentary), or it could be exported as an HMTL5 file and posted on a family web site where the tapping interactivity will still work (HTML5 is in virtually all modern browsers).
See below for an image of the flyer from RootsTech, from when AlbumWALK was officially announced: