This article explains how you can download the free update for FTM 2019. If you have questions about the 24.2.2 update, click here for an article that answers many common questions.
GETTING THE UPDATER
1. Go to the Update Center. It's open 24 hours a day, seven days a week, so you can download the updater whenever it's convenient. Click here to open the Update Center in a new browser window.

2. Confirm eligibility. On the first screen, the Update Center will confirm that you own a copy of FTM 2019.
TIP: Make sure to enter the same email address you used to purchase a copy of Family Tree Maker from us.

3. Choose download, CD or USB drive. You can get the updater as a free download, or order a copy shipped to you on a CD or USB drive for an additional charge. Click NEXT to continue.

4. Browse the Gift Collection. From user guides to a plug-in for making DNA charts, gift collection items are absolutely optional though every purchase helps keep our updates free. At the end of the Gift Collection you will come to a checkout screen where you should click Order Now.

5. Get personalized download links. After you fill out the on-screen order form in the Update Center you'll see a pop-up window with a Download Now button that gives you unique download links for Mac and Windows updaters created just for you. After clicking Download Now, click to select the updater appropriate for your operating system (the .exe file is for Windows, the .dmg file is for macOS) and it will begin downloading. You will also receive an email with your personalized download links, so if you run into any trouble downloading from the website, try the links in your email instead.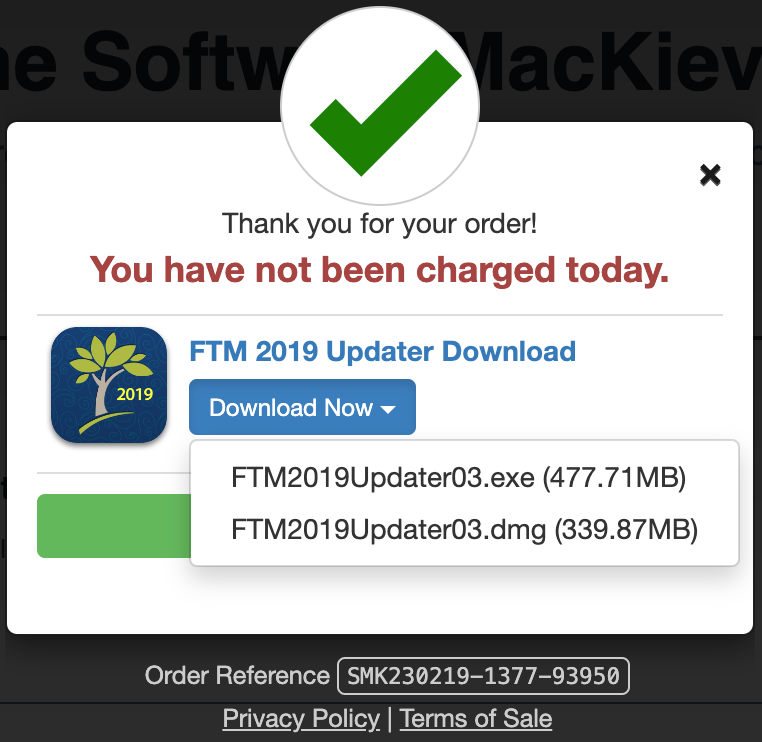 TIP: If the download seems to be going slowly, check back later when fewer users are downloading.