How do I reset my Family Tree Maker for Windows settings?
If Family Tree Maker will not start correctly, it may be necessary to reset the program settings. This will return all customized settings to their original, default values. This means that you will need to register again (click Help>Register Family Tree Maker), define your preferences once more (click Tools>Options), and re-open your family tree files.
Please note that your family tree files will not be affected in any way. However, after restoring the settings to defaults, no family trees will be shown in the list of trees on the Plan workspace. Don't worry — they weren't deleted from your computer. You just need to re-open your tree files in the application by going to the File menu, clicking Open, and selecting a tree to open one by one.
There are two methods for resetting FTM to default settings - we recommend using FTM itself (the first set of instructions below), though you may need to do it in Windows instead if you are having difficulty or are using an older edition of FTM. If you are successful using one method to reset the program to defaults, you're done and don't need to attempt the other.

Delete program data using Family Tree Maker (recommended)
While holding down the SHIFT key on your keyboard, open Family Tree Maker 2017.

The Family Tree Maker Startup Options window will appear. Click the Reset program settings to defaults radio button, then click OK.

Click Yes on the Are you sure you want to restore factory default settings?... box.
The settings will be cleared and Family Tree Maker should open normally.


Deleting program data using Windows (alternate method)
Press Windows key + R on your keyboard to open the Run dialog box.
Enter %localappdata% then click OK.

Note: You can also access the AppData folder by clicking the Windows Start button in the taskbar and typing %localappdata% in the search box.

Right-click the folder labeled Ancestry.com and select Delete from the drop-down menu.
Once the Ancestry.com folder is gone, open on the folder labeled IsolatedStorage.
Open the folder located within IsolatedStorage.
Open the next folder that appears. You should see one or more folders labeled StrongName.

Open the first of the StrongName folders. If another StrongName folder appears within, click the back arrow to go up one level and delete that StrongName folder.
​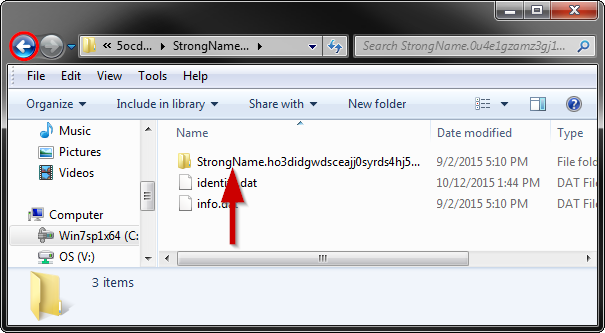 Note: If you do not see a folder that contains StrongName, back up and select a different StrongName folder.
8. Repeat this process with each StrongName folder until all of the appropriate folders have been deleted.
9. Close this window when you are done.
The settings will be cleared and Family Tree Maker should open normally.
Still having problems?
If you've followed the instructions above and are still receiving this message, click here for additional troubleshooting options.