Family Tree Maker 2017 for Windows won't load or continually crashes. What can I do?
Before you start troubleshooting problems with Family Tree Maker, make sure your version of Windows is up to date: click here.
If Windows is up to date and you have the latest version of Family Tree Maker, the problem might be related either to the tree file or to the program itself. So the first step is to try to determine which it is.
This article discusses the following issues:
Crashes related to a tree file
If you have experienced crashes while working with a particular tree, check whether the problem lies in the tree file itself. To do this, create a new "test" tree with just four or five individuals and then try to reproduce the actions that have led to a crash. If no crashes occur, you can be pretty sure that a problem with the original tree file is the reason for the trouble you are having.
- Compacting files
If you have identified the original tree file as the cause, the first thing to do is to try and fix it by compacting the file. Family Tree Maker's Compact File tool will re-index your file, remove unnecessary data, and optimize your tree's performance. It's a good idea to compact files from time to time as a general measure to prevent the emergence of crashes. For detailed steps on how to compact files, click here.
- Using backup and autobackup files
If compacting your file doesn't help, try using a backup of the tree you have made and see if that solves the problem.
If you don't have any manually created backup files of your tree, you can use one of the autobackup files that are regularly saved by the application. They are usually located in your Documents\Family Tree Maker folder. Note, however, that an autobackup is a usual .ftm file, which — unlike a manually created .ftmb file — cannot contain any media.
Crashes related to the program
If the crashes don't seem to have anything to do with the tree file, try the following:
- Restart your computer
- Restart Family Tree Maker
To restart Family Tree Maker, just close the application and then open it again.
- Reinstall Family Tree Maker
Click here to learn how to manually uninstall and reinstall Family Tree Maker. This will ensure none of the program files are missing or damaged.
- Reset the program settings
Click here to learn how to reset Family Tree Maker settings to the factory defaults.
- Delete the files in the SearchHints folder
To delete all the files from the SearchHints folder, follow these steps:
1. In Windows Explorer, open the system disk where Windows 10 is installed (it is usually disk C:).
2. Type searchhints in the search field in the top-right corner of the window, as shown in the screenshot below: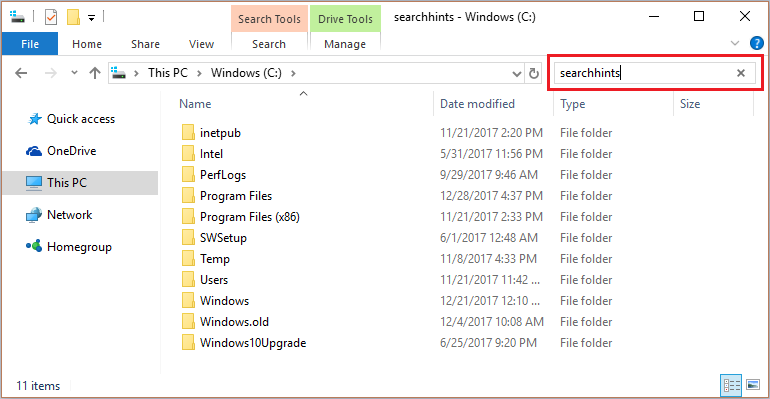 3. Open the SearchHints folder and move all the files to the Recycle Bin.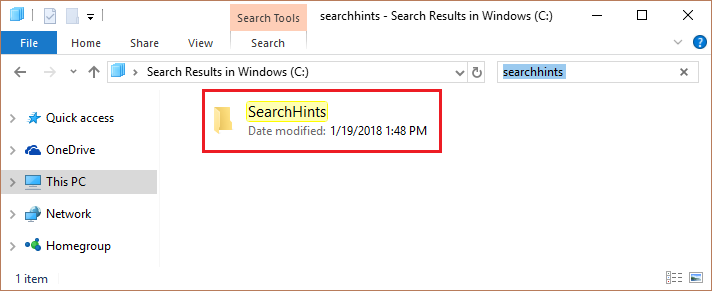 4. Right-click the Recycle Bin and choose Empty Recycle Bin from the context menu.
5. Click Yes in the confirmation message that appears.
- Work with Family Tree Maker as an administrator
To do this, right-click the FTM 2017 icon and choose Run as administrator from the context menu.
- Create a new user account
Crash issues can sometimes be resolved by creating a new user account in Windows. Program failures are often related to Windows account problems such as insufficient permissions or damaged or missing files. To ensure the problems you are having are not profile related, click here to learn how to create a new administrative user account in Windows. Once you have created it, complete the following steps:
1. Uninstall Family Tree Maker.
2. Log in to the new user account.
3. Reinstall Family Tree Maker.
4. Launch Family Tree Maker.
---
Sometimes crashes are caused by an old or damaged Family Tree Maker user configuration file. For all types of crashes — whether related to a particular tree or to the program — deleting the configuration file may also help.
To remove the file, follow these steps:
1. Quit Family Tree Maker.
2. In Windows Explorer, navigate to this folder:
For the Ancestry account: Users\<user name>\AppData\Local\ The_Software_MacKiev_Comp\FTM.exe_StrongName_[random string of characters]\
3. Find the user.config file and delete it.
4. Open Family Tree Maker.
As a result of the configuration file deletion, no trees will be displayed on the Tree tab until you have opened them again in the application. To open a tree, choose Import from the File menu, select the tree in the dialog that appears, and click Open. A new configuration file will be created automatically.
After going through this article and trying all the relevant suggestions, if you are still experiencing crashes with Family Tree Maker, please click here to find out how to send a crash log to our Technical Support Team. They will look into the matter and get back to you quickly.