Family Tree Maker 2017 and 2019 for Mac allow you to download your tree file directly from Ancestry, link your local and online tree, and keep them synced.
1. Click the three-leaf Ancestry icon in the upper-right corner of the application window and choose Download from Ancestry from the pop-up menu.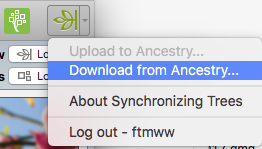 Alternatively, you can choose New from the File menu, and then click Download a Tree from Ancestry.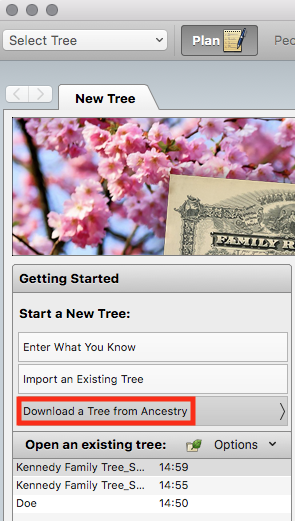 2. The Download From Ancestry dialog appears. On the left is a list of the trees in your Ancestry account.
You can sort the list of trees by name, by date of creation, by date of last modification, or by status.
To reverse the sort order, clear the Sorts in ascending order checkbox.
If you want to view a tree on Ancestry before downloading it, select the tree in the list and click the Show Online Tree button.
To delete an unwanted tree, select it and click the Delete Tree button.
IMPORTANT: Be very careful not to delete a tree you may need - this is not reversible. We recommend keeping copies of your tree, and renaming them to tell them apart easily, instead of deleting them.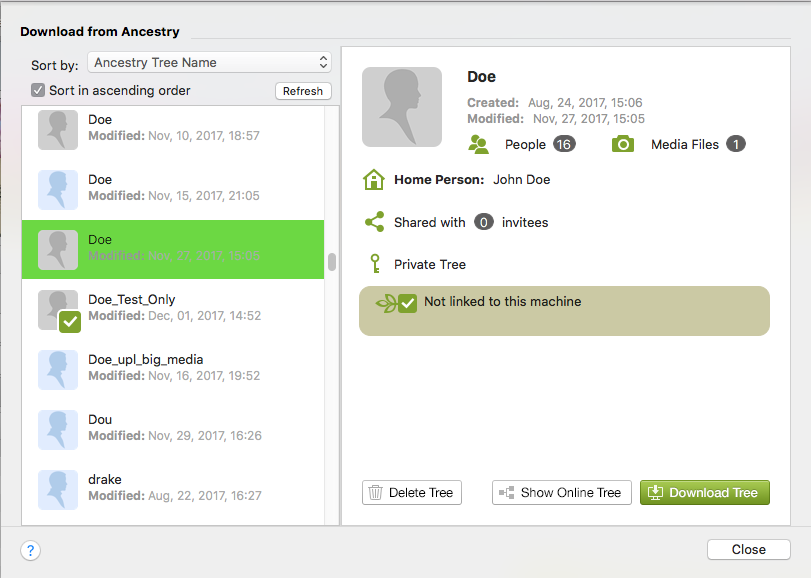 3. Select the tree you want to download from the list, and then click Download Tree.
4. The Download and Link FTM and Ancestry Tree dialog appears.
In the New FTM Tree field, leave the existing tree name or enter a new one.
Decide whether or not you want to have Ancestry citation media included in the download by leaving selected or unchecking the Download Ancestry Citation Media option.
By default, changes made in a tree are synced manually. If you want to have your tree synced automatically every time you open or close it, select the Automatically button.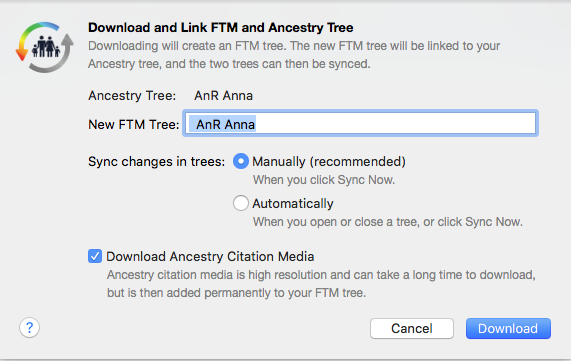 5. Click Download to start downloading your tree.
6. Depending on Sync Weather Report dialog that appears, you should decide, whether you are going to continue your download or not. There may be Green, Orange or Red Sync Weather status. For details, please refer to the Understanding the Sync Weather Report in FTM 2017 article.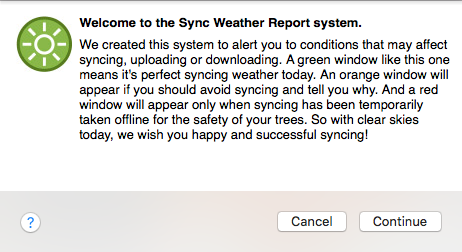 The Download tree from Ancestry dialog shows you the status of the download.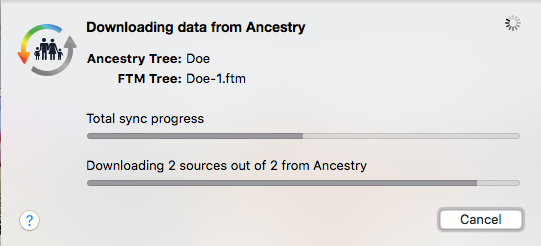 7. A message tells you when the tree has been downloaded successfully. Select the View online tree now checkbox if you want to go to the Ancestry view of the tree immediately. Click Close.