In FTM 2019, color coding has been enhanced with two new capabilities. Now you can:

• Select multiple colors for the Current Person. Instead of just a single color, it's now possible to apply up to eight different colors to the current person. On the Tree tab of the People workspace, select the person you want to highlight, then click the Color Coding button above the editing panel. Under Current Person, click as many of the eight colors as you need to mark the person with. Click a color a second time to deselect it.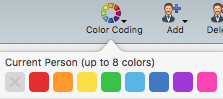 • Extend color coding to ancestors' descendants. As in the previous edition, color coding for ancestors is applied to all those in direct ascending line from the selected person. And now you can apply color to all the descendants of ancestors as well. This allows you to see at a glance which individuals are "blood relatives" and which married into the family, for example; or — using the four-color option — to easily distinguish which lineage more distant branches of the family belong to. To extend color coding in this way, just select the Include ancestors' descendants checkbox.